Different pieces of jewelry accentuate stamps with standard jewelry abbreviations. But most people don't get what these common abbreviations mean.
When you see EMA stamped inside a ring, the foremost question that comes to your mind is what does that mean? EMA implies that the ring was manufactured by the company EMA Jewelry Inc. 
This corporation was established in 1977 in the United States. It has now prospered into a prominent manufacturer of gemstone and diamond jewelry. They deliver national and regional chains from their factories in Mexico and Asia.
They pride themselves on being a valuable partner of numerous retailers by providing them with drop shipping services for their e-commerce businesses.
With their experienced designers in Turkey and corporate employees, the firm offers a variety of designs and forms of jewelry to select from. 
Is EMA jewelry good quality?
Good quality jewelry is not plated or nickel-filled but is composed of pure metals and high-quality gemstones. 
The jewelry pieces are perfect inside out with no cracks and sharp edges. EMA specializes in using a laser-beam focus to provide jewelry that adheres to international quality standards.
In addition to the good quality, they are capable of providing high turns and margins to their consumers.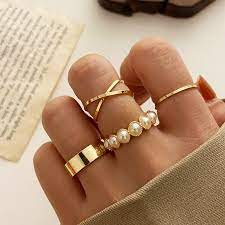 What is EMA jewelry worth?
A typical 14K diamond gold ruby ring is sold at $260 and a 10k white gold ring at $748. The EMA company controls the quality and efficiency of its jewelry and offers great value to the customer. Therefore, EMA jewelry is worth buying both in terms of quality and price. 
Conclusion:
EMA is the logo of the company that manufactures the ring. The company designs its products by using laser beam focus technology. This generates good-quality jewelry pieces that adhere to international quality standards.
Check out our article on What does Pt900 mean on a ring?