Bangles are not only regarded as jewelry for Indian ladies, but they also have historical significance. Gold bangles come in a wide range of styles, designs, and types these days, and women are no more limited to round shapes. 
Apart from Indian women, gold bangles are the go-to accessory for this summer's minimalist look. These structural bracelets offer a classic approach to accessorizing. 
These are ideal for everyday wear and can be worn several times at weddings and other events without causing skin allergies. 
Gold bangles have various advantages for the wearer but it is also necessary to have information about the amount of gold used in it and its worth. To back you up below is the necessary information about gold bangles. 
How much gold do bangles need?
When purchasing a gold bangle, it is necessary to keep an eye on a few things. The quality of gold bangles is the most important factor to consider before purchasing them in a store or online.  
It is preferable to be aware of the current gold rate in order to double-check the accuracy of your gold jewelry's cost. Check the quality of your gold bangle after that. Inquire about the material, which is usually genuine gold or gold plated.  
The amount of gold used in bangles can be varied. 24-carat gold is too delicate and flexible to be used for bangles.
Because they are combined with alloys, anything less than 14 karats can cause skin discomfort. 14K gold has 58.3 percent pure gold while the rest is commonly made up of copper, silver, nickel, zinc, or iron alloys. 
If you only planned to wear them for gatherings or festivals, 14K gold bangles are a good choice. 18K and 22K gold bangles are the finest choices for everyday use.
18 Karat gold bangles are made up of 75% pure gold, which means they have a higher gold content than 14K and do not cause irritation.  
Bangles made of 22K gold are the greatest option because they include the purest gold. These are ideal for everyday use and can be worn several times at ceremonies and other events without causing skin allergies.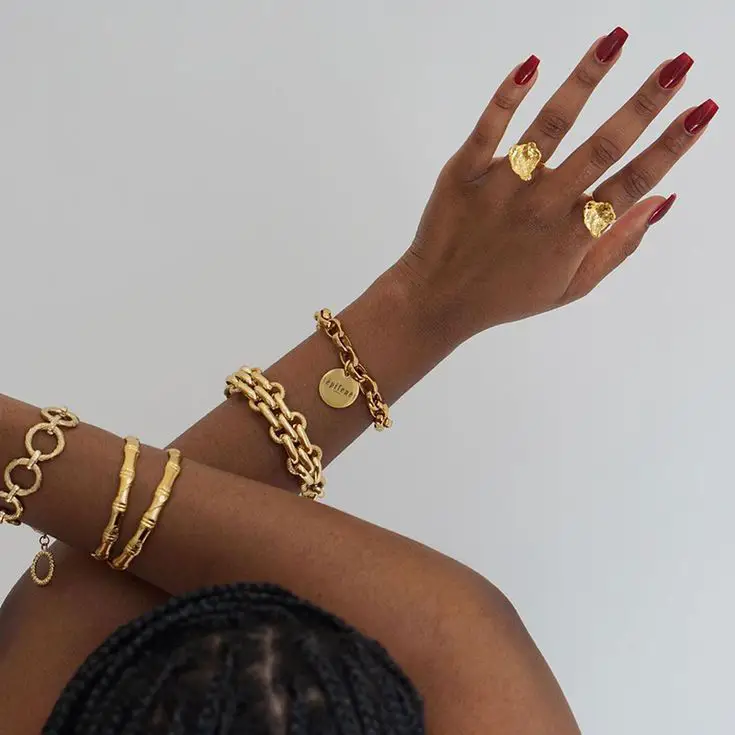 How many grams of gold is in a bangle?  
Bangles come in various designs and with various gemstones and the number of grams of gold used in a bangle is determined by its weight and size. The lighter gold bangle weighs about 5 or 6 grams, while the bigger one weighs dozens of grams.  
Approximately 10 grams of gold is used in a bangle for ladies. Bangles for males, on the other hand, are made of 10 to 20 grams of gold. 
What is the cost of 10 grams of gold bangle? 
You don't simply pay for the jeweler's style or the quantity of your gold item when you buy gold in any kind of jewelry. The price you pay covers the quality of the gold, as well as the labor and creativity of the craftsmen who molded, refined, and sculpted it into the shape you receive.
In the United States, gold is purchased in ounces rather than grams. To be aware of the current gold price. Keep an eye on the stock market in the United States and the gold price on a daily basis. 
At the moment, 10 grams of gold costs around $400. The price of a 10-gram gold bracelet will be determined by the stock market. Gold bangles weighing 10 grams and higher can have 22-karat gold. 
The term "22 karat gold jewelry" refers to a piece of jewelry that has 22 parts of pure gold and two parts of another metal that is used as an alloy with gold. Gold with a purity of 22 carats is widely used in jewelry. 
Conclusion: 
Gold jewelry is a symbol of pure elegance, and it can completely transform any clothing, giving it a delicate yet striking appearance. 
In India, gold bangles are practically an unavoidable component of a woman's outfit. These accessories are appropriate for both western and ethnic attire. When considering purchasing a bangle, it is critical to understand the purity of gold, its weight, and its price. 
The amount of gold in a bangle varies depending on its form and size. A bangle that is less than 14 karats can cause skin allergies. The greatest choices are 22 carats and 18 karat gold. 
The weight of a gold bangle is determined by its size and the inclusion of gemstones. Usually, 10 grams of gold is used in the bangle for women.
More than 10 grams of gold can be used for a bangle required for men. But grams of gold can vary and depends on the requirement of a customer.  Nowadays the cost of 10 grams of gold bangle depends upon the current stock market.