Go-kart racing is the ideal way to let your inner speed demon go. It might be intimidating to race for the first time, but if you are racing with a group of friends who have previously spent some time on the track, you will have a great time for sure.
Below we have put together some advice and what you should wear to go-karting if you are a beginner and looking to have a great time with your friends.
What Do You Wear To Go Karting?
If you are interested in learning more about go-karting, this article is just for you. We know you're itching to get started, but before you rush out to your local track, have a look at this guide.
It's true that there are certain disadvantages to being a novice, but the sooner you learn the ropes, the sooner you'll be racing like a pro.
And if the notion of driving a kart makes you apprehensive, don't worry, we will teach you all you need to know so you can spend more time racing and less time worrying.
It's critical to know what to wear when going karting if you want to be comfortable throughout your race. We all know that nothing is more annoying than cruising into a fantastic turn while being annoyed by uncomfortable clothes.
So, you should wear loose and comfortable clothing that you can sit and stretch in but not too loose, nothing too revealing or something you're afraid of getting mucky, but a pair of nice jeans, a T-shirt, or a tracksuit will suffice.
In terms of footwear, because you won't be able to race in anything with an open toe or heels, so it's better if you go for trainers.
Karting requires running shoes, therefore, sneakers, flat boots, and the like are a much better option.
Moreover, before you enter the track area, you'll be issued overalls and gloves, so make sure your clothes aren't too heavy because it becomes very heated once the racing excitement sets in.
Apart from clothes, you must tie your hair back out of the way if you have long hair because you'll be wearing a helmet. You can bring your own too if you fancy.
You are not advised to wear heavy or large jewelry. It's better to leave it at home than to lose it out there.
Lastly, you must also wear karting gloves that are provided then and there. They keep your hands warm, reduce tiredness, improve grip, and also provide additional protection.
What Should You Not Wear To Go Karting?
Your clothing should be very comfortable if you thoroughly want to enjoy karting, so make sure you've dressed appropriately for your go-karting adventure.
Your clothes should be suitable according to your needs. Avoid wearing too loose or too tight clothing since it may get in the way or become caught or restrict your movement.
So, it's better to wear clothes, like jeans or t-shirts that are almost according to your size. Also, while wearing a karting suit, make sure that it isn't too tight either, because it may restrict your movement. It shouldn't be too loose either for the same reason we've mentioned above.
Also, avoid wearing hoodies and sweaters as you may become hot on the track.  Even if you decide to wear layers, make sure you have something beneath so that the layers can be removed if necessary.
Now, to feel comfortable and enjoy your go-karting experience to the fullest, wear clothes that don't get in your way of having the best time.
Lastly, to ensure your safety, avoid wearing scarves of any kind, long dresses, skirts, long coats, harem pants, and the like.
Can You Wear Leggings To Go Karting?
Tight clothes that may restrict your movement are not advisable, but you can wear leggings that are breathable and made of moisture-wicking materials.
Wearing compression leggings is actually a great option, as they are quite breathable, made of elastic material, and excellent for muscular healing.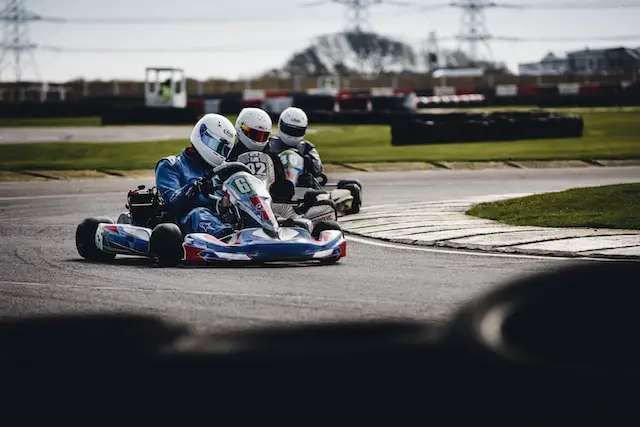 Moreover, moisture-wicking nylon leggings keep you cool and provide more protection and comfort under your racing suit than you would have if you wear normal clothing.
Since they are breathable, you won't become hot or uncomfortable, and you can find them easily on Amazon at a really low cost.
What Do You Wear Under a Karting Suit?
Under your karting suit, you can wear breathable undergarments to keep yourself cool. It is up to you whether or not you wear underwear, but you are advised to do so.
Undergarments made of moisture-wicking materials normally function with outerwear to drain moisture away from the body and maintain a comfortable body temperature.
Apart from these moisture-wicking underwear, we will also advise you to wear moisture-wicking and breathable undershirts.
These shirts are ideal, if worn below your karting suit, to keep you cool and comfortable throughout your ride.
The cherry on top is that these kinds of clothes are generally less expensive than special riding underwear but are quite effective and made of high quality.
For women, they can also wear breathable undergarments, leggings, and of course, moisture-wicking bras made of polyester or nylon.
Bras with unpleasant material like hooks in the back make you uncomfortable during the whole karting adventure, so avoid wearing them. Bras with rigid underwire should also be avoided.
Furthermore, to keep your feet well-insulated and cushioned during karting, selecting the proper pair of socks is just as crucial as finding the right pair of shoes.
If you wear a pair of thermal socks under your comfy shoes, as they contain a variety of qualities that make them excellent for a heavy karting adventure, you won't feel hot at all.
To sum up, it may appear to be one of the most basic pieces of advice, but you'd be shocked how many individuals are unaware of the necessity of dressing appropriately. So, wearing comfortable clothes that are neither too tight nor too loose is advised.
Keep in mind that you'll be sitting for a lengthy amount of time throughout the race, so breathable leggings are a really good option for you.
Whatever you decide to wear, make sure you're comfortable in it and enjoy your racing adventure to the fullest.
Also, don't forget to check out this article on what to wear to an interview with Target.