Japanese have an entirely different history of wearing jewelry from India and China. The jewelry had a minimal effect on Japanese civilization until the 9th century, and they distinguish themselves from the Chinese as a nation by holding sensu- the typical fans associated with Japanese culture. 
Their long and fully covering attire offer fewer opportunities for embellishments, and their fashion is revealed by their dresses, cuts, and styles.
Even the notion of fashion in Japanese culture was associated with hair accessories, including pins, hair combs, and silk flowers that geishas women would wear in their hair during the 18th century. 
The 19th century is marked by modern Japanese jewelry when their culture was influenced by western adornments. They cherish high-quality diamonds that are predominantly beautiful and benefit from a high level of precision. 
The product range continues to flourish, spanning rings, necklaces, and bracelets. They like to buy jewelry for weddings or to present it as a gift to their beloved.
What jewelry is popular in Japan?
After Japan is all set to introduce a new variety of jewelry until the 19th century, many pieces become popular in Japan. The range covers the traditional kimono to the modern-day fashions and is an essential part of Japanese dress. 
When you visit the country, you may come across different types of Japanese jewelry, each carries its unique style with a distinctive meaning. They use precious metals and stones to make jewelry, such as diamonds, gold, silver, and most importantly, jade. 
They create elegant designs that reflect Japanese culture and tradition using these materials, and you would never go away without appreciating Japanese art and culture.
The most popular jewelry type associated with Japanese culture is the kanzashi- hairpins decorated with intricate designs and is a major part of traditional Japanese dress that women love to wear. 
Minori comes the second number among the most popular type of Japanese jewelry. These are ornamental combs adorned with elaborate designs that tie your hair at the back and keep them in place. 
The other popular types of jewelry include Japanese rings, bracelets, earrings, and necklaces. These come in different styles, designs, and shapes made from gold, silver, or other traditional material like wood and ivory.
Are earrings common in Japan?
Earrings are not a common jewelry type in Japan due to their proper traditional kimono attire for special occasions, like tea ceremonies where you are not supposed to wear accessories. 
Secondly, ear piercing is not allowed in Japan until high school, so they do not wear earrings commonly.
The only popular form of earrings, commonly found in the Kanto, Chubu, and northern Tohoku regions in the Final Jomon period were spool or pulley-shaped earrings that demand piercing and are inserted in the lobe.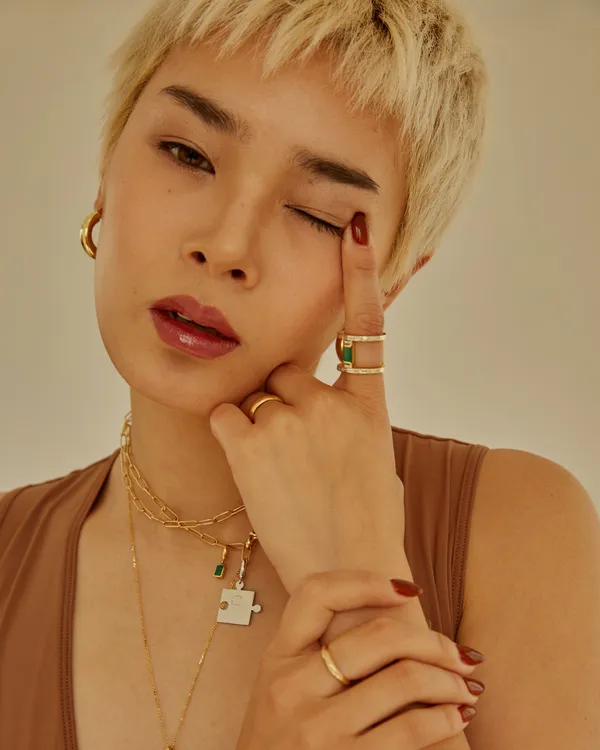 Are clip-on earrings popular in Japan?
Clip-on earrings also called Omega backs and are wearable in both pierced and non-pierced earrings. A pierced earring has a post inserted into the ear lobe while a clip-on has no post and is held on the ear lobe with a spring plate. 
They have a clasp that grips the earlobe firmly. These are commonly found in earrings that contain gemstones. With some French clips, there is a screw that attaches to the back even more firmly. 
Usually, ear piercing is not very common in Japan, and you mostly witness women without piercing their ears. The notion is commonly associated with being hostesses in Japan.
Secondly, the schools do not allow ear piercings and accessories for teenagers. So, girls can wear clip-on earrings after school hours. 
Another reason for the popularity of clip-on earrings is due to several employers in Japan, such as supermarket cashiers disapprove of wearing pierced earrings for their employees because of their older customers who dislike it, and they have to keep it off during working hours.
Furthermore, they do not consider it a noble idea to put holes into your body since it is a precious gift from your parents. For all these aspects, clip-on earrings are very popular in Japan.
Clip-on earrings are painful when you keep them for long, and you can wear them only when you are dressed up accordingly.
Conclusion:
Japan has a relatively different history of wearing jewelry from India and China. They maintain their individuality from the Chinese using sensu. Jewelry was not a common part of Japanese culture until the 19th century, when western adornments influenced Japanese civilization. 
The most popular type of jewelry in Japan is hair accessories such as hair pins, flowers, and combs. Other jewelry items got popular with time in Japan, such as bracelets, rings, and necklaces.
Earrings are not common in Japan because of several restrictions on ear piercing in schools, public places, and special ceremonies. They use clip-on earrings with a clasp that firmly attaches to your earlobe.
Check out our article on how much gold is required for a bangle?