Gold has always held a special place in any culture and society. It is regarded as a symbol of prestige and royalty. People use gold to make jewelry and ornaments.
The gold market is fundamentally global, and gold is traded constantly throughout all time zones. It comprises a broad range of participants, including physical players such as producers, fabricators, refiners, and end-users.
Gold jewelry manufacturers create the design, drawings, and specifications for wearable or three-dimensional objects, i.e., shape, metal, and other materials. 
The finished product is obtained using specialized tools and equipment for assembling, engraving designs, fixing gems, or remodeling old jewelry.
In this article, we have compiled a list of wholesale gold manufacturers in the world, who create masterpieces and sell them at affordable prices. They also repair used/broken jewelry and produce custom-made gold items as per clients' demands. 
List of wholesale gold jewelry manufacturers:
Samuel Findings
Stuller
Asco Castings
Aura Jewelry Manufacturer
Gainerie Elysee
Opla
Hans Rivoir
Allied Gold
Randor Jeweller
Pierce Body
Australian Designer Jewellery Pty Ltd
G&T Jewellers
Treasure House Company
ORO International
Play With Diamonds
1. Samuel Findings:
Samuel Findings operates from its trade showroom in St Cross St, Hatton Garden, and has been serving the jewelry trade since 1983. Later they moved to large premises in Hertfordshire and started as an online and mail order business. 
They are a supplier of wide-ranging gold, silver, and platinum jewelry products, including loose chains, findings, tools, wire, wedding rings, solder, gold sheets, beading materials, and much more. 
They supply designer jewelers, retailers, goldsmiths, silversmiths, students, craft enthusiasts, and hobbyists worldwide.
Location:
14 St Cross St, London EC1N 8UN, United Kingdom
Contact:
020-7831-0657
Website:
https://www.samuelfindings.co.uk/
2. Stuller:
Matt Stuller has been addressing the ever-evolving needs of fashion jewelry of its customers through his corporate headquarters in his hometown of Lafayette, Louisiana, since 1970.
They supply a broad range of jewelry products such as wedding bands, fine jewelry, findings, metals, tools, packaging, and digital solutions. They also offer a customization facility using CAD software and custom design technology.
The product collection is sub-categorized into jewelry types (rings, bands, necklaces, pendants, etc. metal types like gold/ diamond, 14K metal karat, metal color, stone size, and shape.
Location:
302 Rue Louis XIV Lafayette, LA 70508
Contact:
+1-337-262-7700
Website:
3. Asco Castings:
Asco Castings are members of MJSA and the JBT and has been serving the national jewelry industry since 1924.
They pride themselves in manufacturing a complete selection of the latest styles in bracelets, earrings, rings, necklaces & pendants available in gold, platinum & sterling silver. 
The customers keep coming back for gold, platinum, palladium, and silver jewelry, incorporating new designs and next-day castings availability.
Asco is nationally recognized for its casting line. Cad-Cam, finishing & design services are an integral part of their business available in gold, silver, platinum, and palladium.
Location:
3310 Bordentown Ave. Old Bridge, NJ 08857
Contact:
(800)-882-2726 
Website:
4. Aura Jewelry Manufacturer:
The AURA Company was initiated in 2002 and has optimally-priced high-quality products and technical assistance services.
They meet individual and commercial needs and fulfill particular requests for modification of their products regarding time and delivery methods of the orders.
They have a vast assortment of gold and silver bracelets, rings, chains, necklaces, earrings, pendants, clasps, semi-finished products, and everything that Made in Italy fashion trends enhance at all times.  
Location:
Via Genova 6 52100 Arezzo (AR) – Italy
Contact:
+39-0575-357404
Website:
5. Gainerie Elysee:
Gainerie Elysee is a Nice, France-based jewelry manufacturer offering ODM jewelry-making services for wholesalers, private labels, and distributors across Europe. 
Gainerie Elysee is specialized in creating jewelry products made from gold, silver, and stainless steel. 
The collection catalog displays over 1,700 styles, including anklets, bracelets, earrings, studs, basic chains, bangles, pendants, necklaces, and engagement/wedding rings.
They also create matching sets made of gemstones, like a jasper, crystal, ruby, diamond, obsidian, sapphire, and other semi-precious stones.
Location:
24 Rue Fodéré, 06300 Nice, France
Contact:
 +33(0)4-93-55-1400
Website:
https://gainerie-elysee.com/en/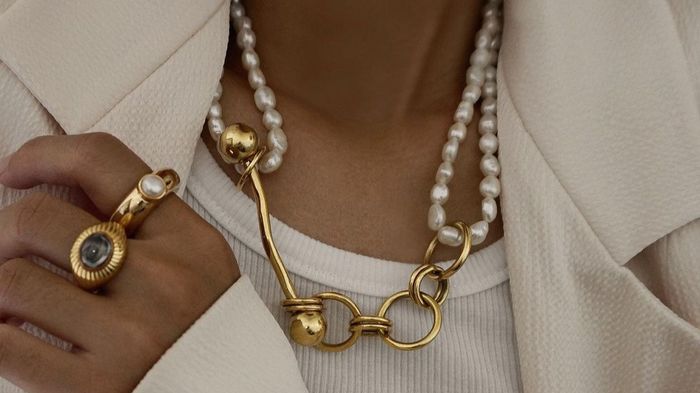 6. Opla:
The company was created in 1978 as a specialized manufacturer of chains, Hollow silver chains identities, 9k/18k gold chains, bracelets in 9K/18K gold, silver, 18k gold plated findings. 
Their continuous evolution made way into the national and international markets with agencies working in Barcelona, Canary lands, Balearic Islands, and North Zone. 
Opla sells by the gram against customer order with the models and quantities followed by a proforma invoice for confirming subsequent order manufacturing. 
Location:
Ciudad de Ferrol, 14 P.I. Fuente del Jarro, 46988 Paterna, Valencia, Spain
Contact:
+34-961-344-018
Website:
7. Hans Rivoir:
Rivoir has expertise in manufacturing the finest pieces of gold and diamond jewelry. Therefore, the jewelry articles never fail to fascinate people through their impeccable craftsmanship.
Rivoir brand enjoys the highest caliber in hand-made diamond jewelry combined with sustainability and adherence to social standards. 
The jewelry catalog entails weddings, engagement rings, 18k necklaces, white gold & rose gold rings, diamond jewelry, etc.
Location:
Güterstraße 6, 75177 Pforzheim, Germany
Contact:
+49-7231-31180
Website:
8. Allied Gold:
Allied Gold is a family-owned & operated business and has been creating innovative jewelry for over 40 years. 
The extensive company portfolio is all-inclusive of engagement/wedding rings, signet/promise rings, necklaces, bracelets, children's jewelry, and giftware.
​The wedding ring designs are offered in a full choice of all carats, colors of gold and precious metals, including Silver, Argentium, platinum, and palladium.
Location:
3-5 Dunn Street London E8 2DG, UK
Contact:
+44-0-20-7249-4422
Website:
9. Randor Jewellery:
Randor Jewellery stands among Toronto's most respected Wholesale Jewellers & Gemologists due to having extensive diamond and gem knowledge. 
Initially, Randor Jewellery supplied gold and diamond jewelry to retailers in Quebec and southern Ontario and later opened the doors for wholesale jewelry collections for the public. Randor Jewellery takes pride in providing you with the very best in products. 
Their in-skilled team is known for creating custom-designed rings for their customers, including wedding rings, engagement rings, wholesale diamonds, and customer service that remains unforgettable for your special occasion.
Location:
27 Queen St East, Suite 605 Toronto, Ontario M5C 2M6
Contact:
416-847-1067
Website:
10. Pierce Body:
PierceBody.com is a trusted manufacturer and supplier of stylish wholesale and retail body piercings at reasonable prices. 
They use specialized processes and tools to create their jewelry at their massive high-tech factory in Thailand, which results in a beautiful and unique range of body jewelry.
Being an online platform, the marketing department keeps websites fully updated and manages incoming orders to ensure everything runs smoothly.
Their extensive jewelry collection in 9k, 14k, 18k, and 22k gold such as belly/tongue/eyebrow bars, Monroe labret/nose studs, and lots more at wholesale prices which makes them the number one destination for body jewelry online.
Location:
Kamar (Piercebody.com) 1321 Upland Drive Houston, TX 77043, United States.
Contact:
+1-786-2313789
Website:
11. Australian Designer Jewellery Pty Ltd:
Australian Designer Jewellery Pvt ltd is an Australian-owned and operated company that manufactures the highest quality jewelry by hand.
Aram Atakliyan is a specialized craftsman with 40 years of experience in the jewelry industry that offers fine quality gold chains and bracelets illustrated in the catalog in 9ct, 14ct, 18ct, yellow, rose, and white gold for any size, style, and length.
They create bespoke jewelry according to your specifications and distribute it all over Australia and worldwide, including London, Las Vegas, New York, Birmingham, Switzerland, and Hong Kong.
Location:
Level 2, 142 Clarence Street Sydney NSW 2000
Contact:
0407-240-585
Website:
12. G&T Jewellers:
Mr. Tajtelbaum, also known as Mr. Tee started working in Hatton Garden manufacturing marquisette jewelry and initiated G&T Jewellers in 1954. 
Later, with the success of marquisette jewelry, they started manufacturing 9K, 18K gold in yellow & white color, and sterling silver items.
The expertise lies in supplying the trade for more than half a century, selling from the exclusive range of jewelry, including lockets, rings, bracelets, earrings, pendants, etc. to the top leading multiple stores and wholesalers.
Location:
W Hendon Broadway, London NW9 7BT, United Kingdom
Contact:
020-8202-3464
Website:
13. Treasure House Company:
It is a family-run business that has been bringing excellent products combined with outstanding service to the jewelry trade for 30 years by virtue of their modern computerized system, giving them an edge over their competitors.
They hunt for the latest styles and trends ensuring that they consistently have high stock levels and offer the most demanded products such as chains, necklaces, bangles, pendants, earrings, and rings around the year.
The comprehensive stock range includes Gold, Silver, Findings, Loose Diamonds (certified/non-certified), and Diamond Set in 18ct or 9ct.
Location:
45 Kirby St, London EC1N 8TE, United Kingdom
Contact:
+44-20-7400-0000
Website:
14. ORO International:
Oro International, Inc. has been supplying manufacturers, retailers, and designers in the US for more than 50 years. They offer fascinating gold jewelry products in 14k with multi-color options to arouse your interest.
Oro International does not sell to the public but only deals with retail partners while providing their wholesale gold and silver jewelry items with proven demand. You can browse through their unbranded items to build your store's distinct retail brand. 
Contact:
0800-621-1671
Website:
https://www.orointernational.net/
15. Play With Diamonds:
Play With Diamonds started with a vision to avail beautiful and high-quality gold jewelry from Thailand and provide a direct shopping platform allowing you to bypass the middlemen and get better value for money.
They serve an ever-growing international client base with stylish and charming rings, earrings, and body jewelry designs incorporating diamonds and precious stones, including ruby, amethyst, emerald, and crystal.
Having over 15 years of experience at Play With Diamonds, they successfully manufacture ODM and OEM Jewelry and exclusively focus on selling gold jewelry to retailers and brands worldwide. 
Location:
919/535A Jewelry Trade Center Bldg., 47th Floor Bangkok 10500 Thailand
Contact:
+66917547626
Website:
Check out our article on the List of Wholesale Gold Chains Suppliers in Australia