Pants are an article of comfort, fashion, and style. No matter your age, height, or body structure, pants are the one garment that fits and suits us all.
Nowadays, while looking at the current pictures of models and influencers, they all can be seen wearing one particular style of pants — ankle-length pants.
Ankle-length pants are not new in the fashion world. Many fashion-conscious people have previously worn them.
Want to know more about them?
Keep reading the article until the end to find out everything about this new trendsetter!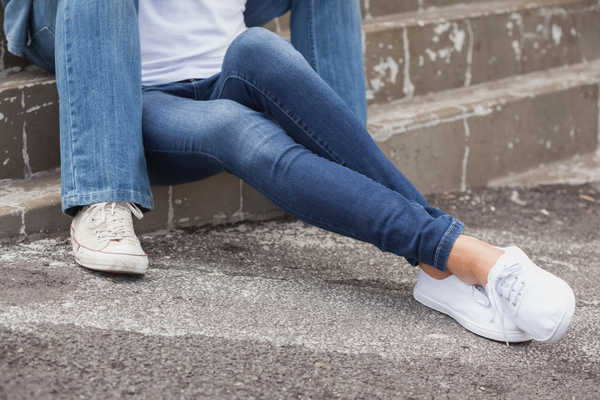 Are ankle-length pants still in fashion?
With the ever-changing trends in fashion, styles do come and go. However, ankle-length pants seem to be back in fashion.
Ankle-length pants fall just above the ankles, showing one's bare ankles or a good proportion of socks (if they are wearing them).
Lately, many models and influencers can be seen wearing these kinds of pants in their daily life.
Ankle-length pants are a very versatile pair of pants that could be worn by all kinds of people, despite their height or body structure.
They can make petite people appear taller and also balance out tall people's figures. According to some fashion gurus, printed ankle-length pants can even help hide some bumps around the hip side.
Plus, ankle-length pants are available in many different kinds of styles, such as fitted, flared at the bottom, buttoned-up, and more.
Why are bare ankles everywhere?
Showing off bare ankles has a sexual angle attached to it.
In olden times, when the only clothing acceptable for women were long skirts, lifting their skirts to show just a hint of their ankles was considered attractive by the opposite sex.
Showing off ankles is still considered appealing, according to some men and women.
Wearing ankle-length clothes can make both genders appear significantly alluring and attractive.
On the other hand, pants just above the ankles can make short people appear taller. Monochrome ankle-length pants also give an illusion of slimness.
Plus, to some people, fashion is the first and foremost thing when compared to comfort. If a particular outfit requires them to wear ankle-length pants, they will wear it even if it's in frigid winter.
Different ways to style ankle-length pants
Ankle-length pants come in many different styles, which could be paired up with a range of different upper wear,
Ankle-length pants are a perfect lower body piece to show those modern high-strappy heels.
Fitted ankle-length pants go absolutely well with a fitted shirt, some heels, or even sneakers. They could even be paired with a blazer to give off that professional vibe.
Pairing a peplum top with ankle-length pants can be a perfect choice for an outfit when on a lunch date with friends.
High-waisted ankle-length pants paired with a fancy crepe top and ankle-length boots could be a great outfit for a party.
Usually, ankle-length pants wide at the hem region go well with slim heels or basically any kind of slim shoes.
Fashion is all about balance, but sometimes it's perfectly acceptable to break free from these guidelines and navigate your way through them.
Hence, ankle-length pants, or any type of pants, in fact, can be paired up and worn with anything according to your liking and comfort.
Are Capri and ankle-length pants the same?
Ankle-length pants are also known as cropped pants.
Very often, Capris and cropped pants are words used interchangeably as most people think of capris and cropped pants to be the same style of pants.
So what's the difference between them?
Capri's are long shorts that end just at the calf area, whereas cropped pants end at or above the ankle bone.
Capri is a casual wear clothing item, which is considered a comfortable piece of clothing during summers. They are not supposed to be worn as formal lower garments.
On the other hand, cropped pants are casual as well as formal. They can be worn in place of work pants, provided they aren't made of denim.
Capri's are also challenging to style, especially for women with short stature, whereas cropped pants can be worn by tall or short people.
An easy way to differentiate between these two is to think of Capris as long shorts and cropped pants as outgrown pants.
What are the disadvantages of wearing ankle-length pants?
According to some people online, ankle-length pants are not suitable for someone who is tall or for someone short but with a wide hip region.
However, there are some claims that monochrome ankle-length pants are a good solution for the latter.
Wearing ankle-length pants in the cold season can get you cold ankles, and wearing them on a sunny day will get you a tanned ankle region unless you apply some sunscreen.
Are ankle-length pants work appropriate?
Ankle-length pants can and are worn in offices and business meetings.
According to some people, they are considered casual clothes that could be worn to offices but are not deemed professional.
However, the majority thinks differently. Sophisticated and casual brands have both incorporated ankle-length pants in their tailored suits collection.
This just further proves the fact that ankle-length pants are liked by most businessmen and women for their workplace attire.
A few work-appropriate ways to style up your ankle-length pants could be:
Pair high-waisted ankle-length pants with a skin-fitting t-shirt and a contrasting blazer or coat.
Wear them with a fitted shirt tucked into the pants; sleeves rolled up.
Pair your high-waisted ankle-length pants with a half tucked-in sleeveless shirt. Pull the outfit off with gorgeous heels.
You can also wear your ankle-length pants with a full-sleeved jersey/ribbed t-shirt for a semi-formal look.
To achieve a business casual look, a plain chiffon shirt, preferably in the color white, can be paired up with checkered skinny ankle-length pants. A pair of pointed heels will be a perfect option to complete this look.
These are just some of the ideas to aid you in achieving a work-appropriate kind of look with ankle-length pants.
However, the sky's the limit.
You can think of more creative ways to style your ankle-length pants for your future business meetings.