Rose gold, an alloy consisting of pure gold and copper, is one of the most popular and attractive types of gold used in jewelry making. The combination of the two metals alters the hue and karat of the final product. It has the same luster as white and yellow gold but is less expensive.
Rose gold beads are utilized and treasured in jewelry such as wrist, ankle, charm bracelets, and slap and link bracelets. Necklaces and earrings are two more types of ornamental items that may be made using rose gold beads.
If you are in quest of rose gold beads, you are at the right place. We have compiled a list of the top 5 wholesale suppliers of rose gold beads to assist you.
List of the top 5 rose gold beads wholesale suppliers:
International Craft
CGM Findings
Bead Wholesaler
Wholesale Jewelry Supply
Spoilt Rotten Beads
1. International Craft
International Craft, a family-owned business founded in 1971, offers one of the most extensive jewelry components and findings selections. The firm carries a broad variety of beads in its huge inventory, including yellow gold and rose gold beads. 
They have very reasonable rates on all their jewelry items and have everything you need to manufacture your jewelry. The company's reputation is established on providing high-quality, dependable service with exceptional customer service.
Address: 
Unit 4, Empire Centre, Imperial Way, Watford, Hertfordshire WD24 4YH England
Contact info:
Phone: +44 (0)1923 235 336 
Website: 
https://www.internationalcraft.com/acatalog/
1. CGM Findings
CGM finding is a wholesale distributor of jewelry materials and findings with over 30 years of experience. They have everything you need in jewelry and give amazing prices on their products.
They have a wide variety of beads, including the rose gold beads that will inspire even the most imaginative creations.
CGM recognizes the value of having first-rate jewelry findings and high-quality precious stone beads. They are well-known for their high-quality items, reasonable pricing, and courteous service.
Address: 
19611 Ventura Blvd Ste 211, Tarzana, CA 91356, United States
Contact info: 
Phone: 800-426-5246
Website: 
3. Bead Wholesaler
Bead Wholesaler is the E-Commerce website of Eagle International of Longwood, Inc., which has been in the wholesale jewelry manufacturing component industry since 1992, including beads, findings, and chains.
They supply simple, smooth, bright rose gold-filled beads in various sizes. Their beads may be combined to make a graded size bead necklace.
With over 30 years in the business, they have gained the confidence of many regular clients globally, and they continue to be trusted suppliers. They believe in high-quality items at reasonable costs and individualized customer service.
Address: 
2148 Orinoco Drive, Suite 328, Orlando, FL 32837
Contact info: 
Phone: 407-370-2929
Website: 
https://www.beadwholesaler.com/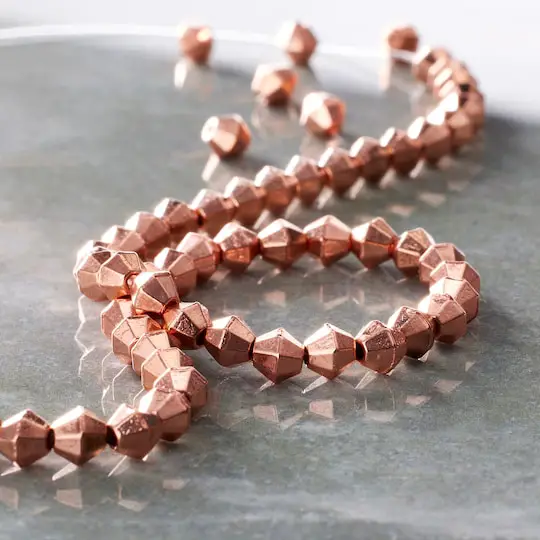 4. Wholesale Jewelry Supply
Wholesale Jewelry Supply was founded in 1985 with the goal of providing the jewelry industry with a dependable supplier by offering competitive rates and prompt delivery.
Their wholesale rose gold-filled seamless round beads come in many popular sizes and can be used to improve and add interest to any design by utilizing rose gold-filled beads as spacers.
They have been providing exceptional customer service in the business for the past 30 years and are dedicated to doing so in the future.
Address: 
20 Fifth Avenue, Cranston, RI 02910
Contact info: 
Phone: (401) 467-2330
Website: 
https://www.wholesalejewelrysupply.com/
5. Spoilt Rotten Beads
Spoilt Rotten Beads was founded in 2008 and is now one of the most well-known bead wholesalers in the UK and internationally, with over 7500 beads, findings, jewelry making, and crafts products in their stock.
They have a large inventory of rose gold beads that are created with great concentration and quality after passing different standardized tests and at competitive prices.
They provide high-quality products, outstanding customer service, and quick deliveries, so you can trust them with your orders globally.
Address: 
7 The Green, Haddenham, Ely, Cambridgeshire, CB6 3TA
Contact info:
Phone: 01353 749853 
Website: 
https://www.spoiltrottenbeads.co.uk/
Check out our article on the List Of Wholesale Gold Beads Vendors & Suppliers