Chains are irrefutable components in making necklaces and bracelets but wearing nickel or inexpensive metal alloyed chains in everyday use may tarnish or cause skin allergy. 
Buying solid gold chains is not affordable for everyone, since it is too expensive. But high-quality gold plated chains are a remarkable alternative, as the luster remains the same by paying only a fraction of the price of one piece of solid gold jewelry. 
We have compiled a list of wholesale gold plated chain suppliers who produce items that compliment your everyday appearance, including everyday use, fine & delicate for an event, holiday accessory, or a statement piece.
List of the top 10 wholesale gold plated chain suppliers:
GALLAY Jewellery and Services
Continental bead supplier
The Bead Shop
DHgate.com
Peppy Beads and Craft
Joacii
Pilgrim
Cheap Wholesale Jewelry
Verena
JingYing jewelry
1. GALLAY Jewellery and Services:
GALLAY Jewellery and Services offers contemporary jewelry for chic babes and classic mommas in the store, featuring a mixture of first-class jewelry made of gold, silver, and double lines with updated daily 6,000 products.
Our long mix-and-match jewelry list consists of stunning chains, necklaces/pendants, earrings, rings, and bracelets, to add splendor to beautiful outfits. 
With over two decades of quantifiable experience, we have been partnering with leading retail stores and catalog companies to provide them with wholesale and dropship jewelry as well as peerless product listing services.
Location:
An der Pastoa 13 03042 Cottbus
Website:
2. Continental bead supplier:
Continental bead supplier is a leading wholesale supplier of all things used in making jewelry. They offer a large inventory of jewelry components, like chains, beads, charms, findings, and cords, with finishes of gold, silver, copper, gunmetal, brass, etc.
The gold chains are produced after a multiple-step plating process using 18K gold.
The amount of gold in plating may vary slightly, but measures approximately 1 mil in thickness (25.4 microns). You can shop gold plated chains by sizes, styles, materials, designs, etc.
Location:
3035 East Post Rd, Las Vegas, NV 89120
Contact:
702-360-9900
Website:
https://www.continentalbeadsuppliers.com/
3. The Bead Shop:
The Bead Shop has been a Manchester-based supplier of wide-ranging gold-plated beads and findings since 1993. The gold plated chains category entails many styles, such as rope, rolo, twisted, oval trace, flat trace cable chains, etc.
Designers employ them to produce simple essentials, including eye/headpins and jump rings, to a broad range of fancier components, like highly detailed toggle fastenings and multi-strand clasps to a fabulous variety of chains and pretty pieces of jewelry.
Location:
Granmore Building 186 Cheetham Hill Road Manchester M8 8LW
Contact:
0161-274-4040
Website:
https://www.the-beadshop.co.uk/
4. Yea Jewel:
Yeajewel is a China-based fine wholesale jewelry supplier, offering gold plated, gold-filled, 925 silver, titanium/stainless steel, and crystal jewelry for you to buy in bulk,. 
They have over 8 years of experience in the fashion industry, rolling out multiple styles of fashionable wholesale jewelry daily, providing extraordinary service and wholesale boutique jewelry at competitive prices. 
Yeajewel offers a wide array of chains and necklace styles for you, including gold chains, Franco, Miami Cuban link, sterling silver, Rope, tennis, rose gold, and many more in 14k and 18k gold plating.
They also offer custom-made jewelry products for its customers with no MOQ. 
Location:
Room 901, Unit 5, Beicheng Mingzuo, Yiwu City, Zhejiang Province, China
Contact:
+86-183-5802-3972
Website:
5. Peppy Beads and Craft:
Peppy Beads and Craft is a UK-based leading online wholesaler of a massive collection of jewelry components and findings, charms, beads, gemstones, pendants, pearls, and a lot more.
The gold-plated chain catalog involves 24kt gold-plated Rolo chains, 24kt gold-plated snake chains, 24kt open ring gold chain, 24k gold plated curb chain, necklace extender, 100 meters bulk gold plated brass cable chain, etc.
Contact:
+44-20-82-41-0801
Website:
https://www.peppyaccessories.co.uk/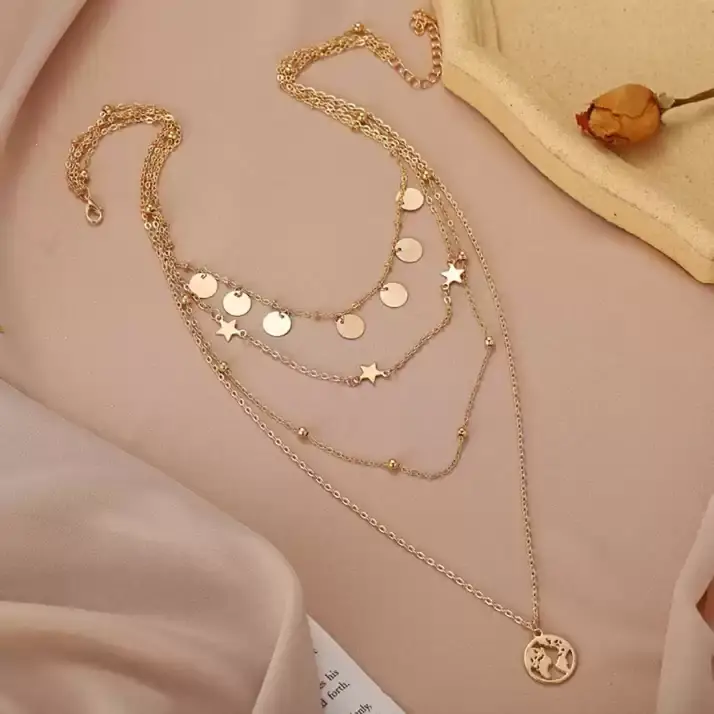 6. Joacii:
Joacii has been delivering matchless wholesale & custom service for more than 20 years and stands among the best partner for jewelry brands for producing, designing, CAD drawing, molding, and wholesaling worldwide.
They craft high-grade jewelry in gold plated, gold vermeil, or rhodium plated. Gold plated chains include 9K/12K/14K/18K and 22K, etc. 
They use high-quality 100% real 925 sterling silver to make silver jewelry and select brilliant gems such as diamonds, rubies, sapphires, and emeralds to produce fine gemstone jewelry.
Location:
Panyu, Guangzhou, China
Contact:
+86-15359296028
Website:
7. Pilgrim:
Pilgrim believes that jewelry is a must-have component in your wardrobe, so they stock their collection with the widest range of beautiful ornaments to help you create a unique look that illustrates exactly who you are.
Pilgrim Jewellery is hand and heart-made nickel-free fashion jewelry designed in Denmark. Pilgrim creates gold plated silver, rose gold, or hematite chains, rings, necklaces, earrings, and bracelets by mixing and matching the different shapes and sizes.
They offer you to personally visit their stockist or shop online for gold jewelry for delivery across New Zealand and Australia.
Contact:
03-595-5840
Website:
https://www.pilgrimjewellery.co.nz/
8. Cheap Wholesale Jewelry:
Cheap Wholesale Jewelry is a single solution provider of a massive variety of wholesale gold, rhodium, and silver-plated chains. 
They present a large selection of gold-plated chains, including necklaces and bracelets to stock up on the merchandise your customers are looking for. 
They are dedicated to customer service, combining high-quality gold and silver plated chains at the lowest prices with a lifetime warranty and a stamp verifying the quality of the metal used, made of 24K gold or rhodium. 
Location:
1550 Nooseneck Hill Rd # 657 Coventry, RI 02816
Contact:
800-539-3178
Website:
https://www.cheapwholesalejewelry.com/
9. Verena:
Verena Jewelry owns more than fifteen years of experience in making jewelry and designs as their products are SGS testing passed and ISO9001 certified. They supply fashion jewelry ODM and OEM services for customers across 50 districts and countries.
They have classified the item under men, women, and product categories. You are welcome to shop wholesale Cuban link chains, custom 22k gold curb chains, custom name gold chains for women, etc.
Location:
Room 314, Building 7, No. 1, Xuefu Road, Songshan Lake Park, Dongguan City, Guan gdong Province, China
Contact:
13712923260
Website:
10. JingYing jewelry:
Guangzhou JingYing jewelry manufacturers started in 1998 and transformed into a whole line of independent design, production, and sale, focusing on the customized high-end fashion jewelry wholesale enterprises.
After 20 years of accumulation and precipitation, the main products of JingYing jewelry include earrings /ear studs, necklaces, bangles/bracelets, pendants, jewelry sets, etc. 
They perform 2-time plating for all 925 sterling silver jewelry- primary thick silver plating, by the base and double posh to smoothen the surfaces.
Finally, they carry out the process with the real gold plating, containing thickness up to 3 microns known as vermeil, having one year warranty.
They get their customer reported about the plating thickness from the machine test, ensuring the desired results. They manually rub the metal surface for five minutes and use professional tools to confirm the absolute coat quality.
Location:
175 Sha'nan Rd, Panyu District, Guangzhou, Guangdong Province, China, 51149
Contact:
+86-18027382203
Website:
https://www.chingying-jewelry.com/
Check out our article on the List of Jewelry Manufacturers in Sydney