Anklets have been used as jewelry from the beginning of time. They have been worn as decorations by ladies in India, Egypt, and other Southeast Asian countries from the early ages, and the tradition has become a fashion style all over the world.
Anklets are available in a variety of chain styles and materials to complement any personality, clothing, or aesthetic.
Anklets with gold plating are ideal for 'of the moment' trends. In this manner, you may follow the trend without worrying about whether your investment in a more expensive item was worthwhile.
Wearing high-quality gold plated jewelry is nearly as good as wearing real gold jewelry. Its brilliance and sheen can spruce up any outfit, and it comes at an unbelievable price.
Several sets of gold plated jewelry can be purchased for a fraction of the cost of a single piece of genuine gold jewelry.
We have found some amazing wholesale vendors and suppliers that offer a unique range of high-quality gold plated anklets available at affordable wholesale rates.
List of wholesale gold plated anklets vendors & suppliers:
Silver Forte
Kaash USA
Macy's Inc.
Newlabel
Missoma
1. Silver Forte
Silver Forte offers its beloved customers a huge range of gold plated anklets, rings, necklaces, bangles, bracelets, earrings, pendants, charms, and more.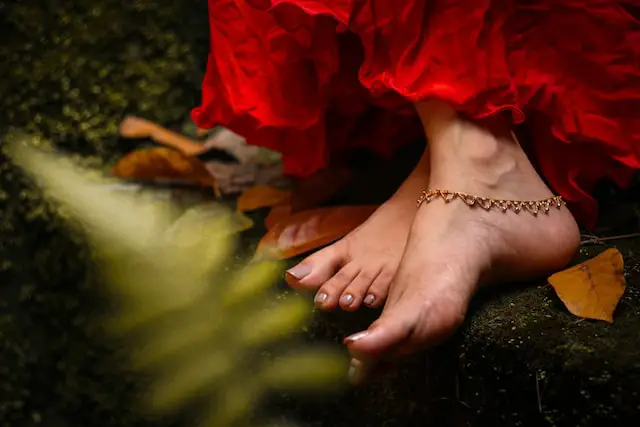 Each and every product is thoroughly inspected to ensure that you receive nothing less than the best from them.
Their lovely anklets are available in a range of designs, colors, and materials, including sterling silver, gold-plated, and rhodium-plated chains.
They have the perfect gold plated anklet styles to compliment your look and outfit for the day, whether it's for daytime or nighttime wear.
Contact info:
Tel: +1-213-266-8882
Website: https://www.silverforte.com/
Address: 640 S Hill St # J-23, Los Angeles, CA 90014, United States of America.
2. Kaash USA
Kaash USA is a well-known jewelry site of designer gold plated jewelry, which includes anklets, bangles, bracelets, pendants, rosary, chains, CZ jewelry, watches, and much more.
Their jewelry is all crafted of high-quality materials with the ambition of creating a unique shopping experience in the jewelry market.
Their clients handpick each piece of gold plated jewelry to assure the highest degree of quality because their goal is to make purchasing gold plated jewelry easier for their customers.
They offer far too many gold plated anklets options to pick from. Animal anklets, charm anklets, CZ anklets, Figaro Anklets, silver anklets, and a variety of other patterns are available.
Contact info:
Tel: 213-745-2009
Email: [email protected]
Website: https://kaashusa.com/
Address: 125 E 12th St, Los Angeles, CA 90015, United States of America.
3. Macy's Inc.
From off-price to luxury, Macy's Inc. is a trusted source for top goods at amazing prices. They assist their customers in expressing their individual style and commemorating memorable occasions, both large and small.
They are based in New York City and run one of the largest e-commerce businesses in retail, with a countrywide presence to provide the most convenient and seamless shopping experience possible.
If you are looking for the perfect gold plated anklet, in Macy's wonderful inventory, you'll find a wide range of attractive gold plated anklet options to fit your taste, price, and style.
Contact info:
Tel: 877-876-2297
Website: https://www.macysinc.com/
Address: 151 West 34th Street, New York, NY 10001, United States of America.
4. Newlabel
Newlabel is a one-stop shop for private label products at wholesale prices. They help brands and businesses in the United States improve their manufacturing, delivery, and customer service.
Their amazing variety of gold plated anklets have a delicate appearance on your feet and will go with any attire for any occasion.
They'll easily add a distinctive flair to your look and accentuate your form when paired with formal pants, jeans, or casual skirts and shorts.
Contact info:
Email: [email protected]
Website: https://www.newlabelwholesale.com/
Address: Mountain View, CA, 94043, United States of America.
5. Missoma
Missoma has been providing demi-fine jewelry since 2008 to its customers. They now export to over 200 countries and partner with some of the world's best retailers, having designed all of their distinctive and iconic pieces in-house at their London HQ in Notting Hill.
They believe in high-quality craftsmanship and timeless design that can be worn on a daily basis. Their demi-fine and fine styles, which are designed to be stacked, are the ultimate champions of self-expression.
They offer a spectacular selection of exclusive and original designer gold plated anklets in a wide range of bold, colorful, and directional designs that are always stylish and effortlessly elegant.
They believe that your jewelry should reflect your unique personality and style, therefore they create each piece to stand out wherever you go.
Contact info:
Tel: +44 (0)20 3176 6822
Website: https://www.missoma.com/
Also, check out this article on Wholesale Opal Beads Vendors & Suppliers.