Charleston, the birthplace of several genres of American music, is one of the most popular tourist destinations in South Carolina.
It is also a great place to visit for those interested in history, culture, and architecture.
It has many notable landmarks and attractions, such as the historic district with its beautiful mansions and churches. 
The city is famous for its rich history and is the birthplace of many famous people, including the actor Bill Murray and James F. Byrnes. 
Charleston is a place where you can enjoy a relaxing dream weekend away from worldly problems.
Walking down the historic cobblestone streets of Charleston will make you feel like a real Southerner.
With some of the best beaches in the country, Charleston is an exceptional place for a romantic getaway or honeymoon.
November is a perfect time to visit Charleston. The weather is fantastic, and there are plenty of things you can do.
Don't worry if you are confused about what you should wear in Charleston in November.
This article provides all the essential information on the kind of clothing you will need in Charleston in November.
Charleston's Weather in November
Charleston has a subtropical climate with a lot of humidity, making it a generally hot region for the most part. The summers in Charleston are super-hot, while winters are mildly cold with a fresh and clean breeze.
In November, the weather in Charleston is not too hot, and you will experience a change from the blistering summer sun. 
The daytime temperature in Charleston in November can range between 65°F and 72°F. Nights can be slightly cool, with temperatures ranging between 52°F and 60°F. On the rarest occasions, the temperature can rise to 79°F or drop to 40°F. 
November is also the driest month in Charleston, so you won't have to worry much about the rain. The average rainfall in Charleston in November is usually 2.4 inches.
What to Wear for Daytime Activities in Charleston?
Charleston is rich in natural beauty, beaches, restaurants, historic sites, and friendly people.
So, be prepared for a long list of daytime activities that you can enjoy in Charleston in November.
If you are too much into greenery and beautiful landscapes, Charleston has limitless options for you.
There are numerous plantations in the city that you can visit, including the famous Middleton Place Plantation.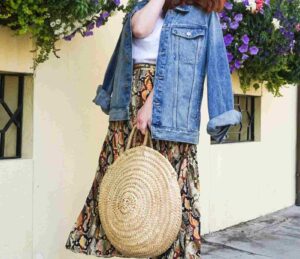 Magnolia is another magnificent plantation in Charleston, which spans several gardens dating back to two centuries.
These gardens have several tourist attractions, like the petting zoo, boat tour, and more.
Another excellent daytime activity is visiting the Waterfront Park, which stretches over a wide area.
The beautiful and colorful vegetation in the park allows you to have a great time. 
In addition, the park is located close to the City Market and other historical tourist attractions so that you can cover plenty of ground in a single day.
Also, you can enjoy the Harbor view from the park.
The Old Market Building in Charleston is another popular landmark that attracts many tourists every year.
This is the perfect place to shop if you want to buy some souvenirs.
The amazing thing about this market is that most of the stuff sold here is handmade, like sweetgrass baskets.
The building itself is a beautiful historic site that dates back to 1841.
If you are interested in history, you will particularly love to visit Fort Sumter.
After the war, the fort's remains have been well-kept as a reminder of victory.
In order to visit the fort, you will have to take a boat ride from downtown or Patriots Point.
So, you are in for a double treat, a boat ride, and a chance to witness a monument. 
If you find it hard to plan everything on your own concerning your itinerary, you can also take guided tours. 
There are plenty of them, including the Historic Sightseeing Walking Tour, Historic Horse and Carriage Tour, City Sightseeing Bus Tour, or Wine and History Tour.
Lastly, you can visit the beautiful beaches of Charleston, including Sullivan's Island Beach, Edisto Beach, Kiawah Island, and the famous Folly Beach.
Charleston's weather in November is quite pleasant, leaving you with numerous apparel options. 
The days are hot but comfortable with a mild breeze. So, you can go for anything, from jeans to shorts to skirts. For the top, you can go for a basic tank top, a t-shirt, or a tunic.
However, you must keep an additional lightweight layer handy since it can get windy. It would be best if you stuck to comfortable sneakers for shoes as you'll walk a lot.
What to Wear for Nighttime Activities in Charleston?
Charleston has a lively nightlife.
There are plenty of bars and clubs.
If you love dancing, you can check out Mynt, but if you are looking for a more posh experience, you should go to Deco Nightclub.
The Commodore will ensure you have a good time if you fancy jazz.
It's a classic jazz club where you can get lost in the beautiful beats of Jazz music.
Another similar option in this domain is the Forte Jazz Lounge.
If you are on a trip with friends and looking for a more fun night, you can go to Burns Alley, where you can enjoy drinks and watch games on the screen.
Or, you can go to Henry's rooftop deck to enjoy live music with your drinks.
Other great options include watching comedy shows and concerts, visiting the aquarium, or taking guided haunted tours.
You can also enjoy delicious food at a nice restaurant.
You can wear the same clothes as in the daytime for casual activities.
But, if you want a little fun and saucy evening look, you can wear a romper or a short dress with heels and accessories like earrings and a bracelet.
Since the night can get colder, layer your clothes with a denim jacket or a cardigan. If you plan to go on a walking tour, do not wear heels or other uncomfortable shoes.
Additional Things You Might Need in Charleston in November
These few things might come in handy during your visit to Charleston in November
Swimsuit

Cotton tops

Cardigan/jacket

Bath towel

Water bottle

Sunscreen

Sun protection hat for the beach

Flip flops
Final Advice
November is the best time to Visit Charleston with sunny days and mild weather. 
The best way to pack for your trip to Charleston at this time of the year is by using a mix and match of different items.
Most importantly, your footwear must be comfortable, and you must keep an outer layer if it gets cold. That's about it!