Fast fashion retailers have often been criticized for playing fast and loose with their ethical conduct.
One such fast-fashion online marketplace is Shein, which has been embroiled in a number of controversies recently.
Shein was founded in Nanjing, China, in 2008, by Chris Xu, who started the business as a simple dropshipping venture.
They were not responsible for the design and manufacturing of their products, opting to acquire their wares from a wholesale market in Guangzhou.
But soon after, owing to their success both in China and worldwide, in 2014, they acquired a Chinese online retail website called Romwe.
This allowed them to become a "fully integrated retailer', and they started designing and manufacturing their own products.
Soon they made a name for themselves as a brand that made cheap but quality apparel.
Bloomberg Businessweek and other outlets have reported a connection between Shein's success and the US-China trade dispute.
But as time went on, they became the center of a number of controversies, ranging from trademark conflicts, slacking off on health and safety regulations, and human rights violations.
Is Shein Clothing Toxic?
There have been various allegations directed towards Shein regarding the use of lead and other such toxins in their fabrics.
They have also been accused of negligence regarding the environment and unethical practices in their manufacturing process.
Lead has been found in Shein products, with people recommending washing them before use and using lead testing strips on the fabrics.
But there is a downside to this prewashing, as it is said to reduce the life of the cloth by half.
There are also reservations regarding the use of plastics and waterproofing chemicals in Shein apparel.
Although Shein denies the use of these toxins, they have been proven to be blatant liars in similar cases of not being up to code regarding their labor.
They claimed to be ethical, but courts in England and Australia disputed that after investigations and found them to be on the wrong side of several anti-slavery laws.
The major reason for this is a lack of strict quality control regulations and oversight in China.
Unlike in the USA, product liability lawsuits are almost non-existent in China, and thus any cheap clothing factory that sells its product through Shein is not held responsible for any kind of poisoning that its customers might incur.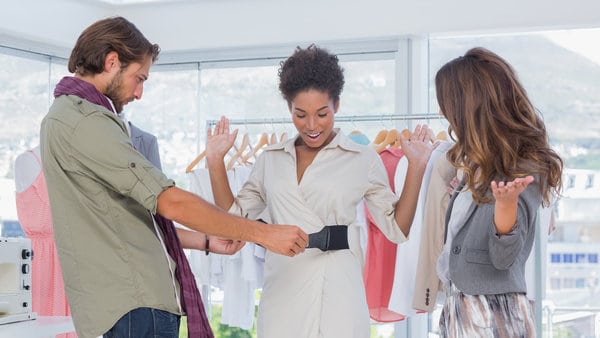 Do Shein Clothes Have Chemicals?
The defining feature of fast fashion retailers like Shein has always been the variety they offer at the most affordable prices.
But there is a hidden cost attached to these cheap price tags, according to an investigation conducted by Marketplace with the help of the University of Toronto.
They ordered 38 samples of clothing from 6 online-only retailers, including Shein, and carried out chemical tests on all of them to determine the presence of heavy metals and other toxic chemicals.
In a surprising turn of events, they found out that 20% of the items contained appreciable amounts of the elements they were testing for.
Notable chemicals found were phthalates, chemicals known for their ability to cause hormonal imbalances in people.
The phthalates found in these articles of clothing specifically target the hormones involved in the male reproductive system.
Furthermore, the amount of lead found was over 20% higher than the benchmark set by the government.
The study flagged the apparel sold by Shein as toxic, and Shein has said it has pulled the concerned products from the store and refunded its customers.
It has also promised to look into the matter, but until then, researchers recommend washing their articles before use. This dilutes the chemicals and prevents serious damage.
Is Shein Clothing Really Lead?
Although fast fashion may provide short-term satisfaction in terms of being up to date with the current fashion trends at the cheapest of prices, the environmental and personal health impacts far outweigh any potential benefits.
Lead is one such health hazard, adversely affecting the kidneys, brain, reproductive system, and even the heart.
Pregnant women and children especially are most at risk from this heavy metal due to their weakened immune systems.
Shein products have been found to have lead levels exceeding safe thresholds by up to 20%.
Although trace amounts of lead are found in the environment and may even end up on some clothes due to various manufacturing processes, the amount found in Shein apparel is well beyond the limit for contamination.
These levels indicate that the use of lead was intended and not some unforeseen consequence of the manufacturing process.
It is probably due to the use of textile dye pigments, which are cheaper than other safer alternatives.
This also raises concern for the health and safety of the labor employed by Shein, as the handling of lead is bound to make them sick as well.
Infants are also at increased risk from these chemicals, as they tend to suck on the fabrics and because their skins tend to absorb foreign toxins faster than adults.
Are Clothes From Shein Safe?
Unmatchable variety, designs straight from the ramp, and all that bundled with a budget-friendly price: it just sounds too good to be true.
Couple that with the fact that Shein is exclusively online, and it increases the chances of you being scammed or sent completely different products than what you ordered.
Customer reviews about Shein are a mixed bag, with some people claiming they got scammed by the website. But at the same time, Shein fulfills thousands of orders on a daily basis.
Although, a point of contention among potential buyers could be the fact that Shein is not BBB accredited.
A BBB accreditation is obtained by meeting specific standards for customer support, and Shein not being accredited could mean it does not have reliable customer service.
But despite these issues, many people trust Shein, and it is warranted as Shein is not involved in any identity theft or leaking of payment information.
Shein is a fairly trusted brand worldwide, so it's safe to say that if you order from Shein, chances are you will not be disappointed.
And No, you won't get lead poisoning from wearing Shein's clothes.
But, we understand.
You'd rather be safe than sorry.
So.
Can you wash lead & toxins out of Shein clothes? (in case there are any)
No, you can't.
How can you wash toxins out of Shein's clothes? (If there are any)
Toxins cannot be washed out.