A family-run business, Le Vian has been making jewelry since the fifteenth century. 
Abdulrahim Ephraim LeVian, then 28 years old, emigrated to the United States from Persia in 1950 and established the LeVian American division there. 
Since then, the name has evolved from being associated with ancient aristocracy to appearing on the red carpet.
Le Vian had developed such a reputation as a supplier of fine jewelry that Nadir Shah, one of Persia's most powerful kings, picked them in 1746 to preserve the array of jewels he had accumulated, including the renowned Kooh-i-Noor diamond. 
Le Vian is recognized for its love of redefining many fine jewelry categories by fusing distinctive colors of diamonds, jewels, and gold to produce diverse collections. 
Le Vian emphasizes that every design begins with an original concept that is sketched out on paper in a field where plagiarism is all too rampant.
Le Vian has produced approximately 100,000 original designs over the years as a result of the time and work they have put into developing new ones. 
Le Vian is key in the development of producing the most magnificent jewelry using natural fancy-colored diamonds and gemstones.
Le Vian is dedicated to returning 10% of pre-tax profits to charity. 
The business supports a number of causes, such as constructing schools in the regions where the diamonds are mined and aiding indigenous residents and medical charity. 
Le Vian also contributes significantly to Jewelers for Children, a charity that aids underprivileged kids. 
The way Le Vian transacts reflects this sense of morality, accountability, and altruism as well as a passion that has endured through the centuries.
Le Vian is a privately held, family-run company.
It allows them the chance to pursue their passions, like investing in innovation, caring for their collectors as if they were family, and doing things no other company does.
You can read more about the company here: About Le Vian 
Le Vian's customer reviews rave about their jewelry and designs. People love the quality of the jewelry since it is very long-lasting.
While the pieces are definitely pricey, Le Vian's jewelry is a work of art. People have claimed to own pieces from the company for decades without them ever getting damaged.
Le Vian uses the best of the best materials in their jewelry, from the clearest diamonds to the purest forms of metals.
Le Vian's team created a stringent set of requirements for diamond purchasers so that clients could trust them to provide the best diamonds available. 
It takes work to obtain the Le Vian Certificate of Authenticity. Only the finest diamonds are regarded as belonging to Le Vian. 
When it comes to the colour, clarity, cut, and karat of their diamonds, Le Vian has high standards. 
The fact that Le Vian is willing to repair or replace any item of jewelry that they have sold to you demonstrates how confident they are in the quality of their standards.
Le Vian, well-known for their renowned Chocolate Diamonds and use of vivid, bright gemstones, masterfully combines high-fashion flair with unique, handmade design.
Since its debut in 2000, Le Vian's Chocolate Diamonds line has gained popularity as a stylish substitute for classic diamond engagement rings. 
Less than 1% of all diamonds mined around the world have the stunning brown or golden color of a chocolate diamond, which is fully natural. 
Chocolate Diamonds are exceedingly rare but incredibly affordable yet despite this, these distinctive stones were undervalued until recently.
Eddie LeVian and his family exhibit their integrity and accountability both inside the jewelry industry and to the larger community as a privately owned, family-run business. 
Only locations free of violence will be used by Le Vian for mining and sourcing, and conducting business with partners ethically is of utmost importance.
Le Vian makes unique designs of jewelry that still have a touch of their Persian heritage. 
Their high-quality can be attested by the fact that various A-list Hollywood celebrities love donning their jewelry pieces, be it a regular day or a red carpet attendance.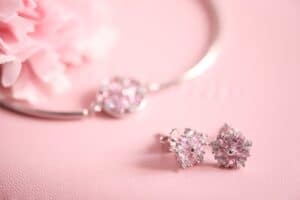 Le Vian jewelry is assured to contain only hand-cut jewels. Every design made of 14K, 18K, or Platinum is assured to be handmade and hand polished. 
Every design made of 18K or platinum is certain to be handcrafted. Consequently, no two 18K or Platinum creations are ever identical to one another.
All gems used in Le Vian jewelry must be of gem-quality. 
All diamonds have been bought legally, in accordance with UN Resolutions, from sources that do not support violent conflict. The majority of gems have been improved during their natural processing. 
Every 14K and 18K design is warranted to contain 58% or perhaps more pure gold and 75% or more pure gold, respectively. 
Every PLAT platinum design as well as every P90 platinum creation is warranted to contain 92.5% or more pure platinum, respectively. 
Every piece of sterling silver jewellery has a 92.5% pure silver guarantee. As a result, each piece has the proper international mark, such as 18K, 14K, PLAT, P90, or 925.
Le Vian was accredited by the RJC in June 2015 as part of their continued dedication to the ethical sourcing of their jewelry. 
This came about as a result of a supply chain audit conducted by a third party. 
The RJC is a global not-for-profit organization devoted to advancing ethically sound, socially conscious, human rights-conscious, and environmentally conscious behavior throughout the jewelry industry, from mine to retail. 
Le Vian's business operations had to meet the ethical, human rights, social, and environmental standards defined by the RJC's Member Accreditation System, according to auditors, in order to receive this certification. 
You can read more about Le Vian's corporate responsibility here: Corporate Responsibility –  Le Vian
Le Vian's jewelry is top-notch in terms of its designs and quality. Their consumers also have no problems regarding their customer service.
Therefore, Le Vian is a good jewelry brand to invest in, as their designs survive the test of time and they also offer lifetime guarantees on certain collections.