The look of a golf shirt is more formal and elegant. A golf shirt is basically a button-down shirt with a collar that is composed of comfortable, breathable, and moisture-wicking fabric.
They're usually made of cotton or polyester, and they feature a slightly loose fit. These shirts can be worn as business casual outfits.
For males, business casual implies wearing golf shirts, polo shirts, and button-down shirts with a blazer, sweater, khaki, or dress pants as well as comfortable yet stylish shoes.
It's crucial to get the dress code right, especially now that the business suit is on the decrease.
Are Golf Shirts Considered Business Casual?
Many men associate business casual with golf shirts, polo shirts, beige chinos, and casual footwear. This appearance is appropriate for a business casual look.
Business casual refers to an attire that is less formal than a suit and tie but looks quite decent and elegant.
In today's workplace, fashion is always changing. Specific industries are likely to ditch the classic business suit and heels in favor of a more casual approach these days.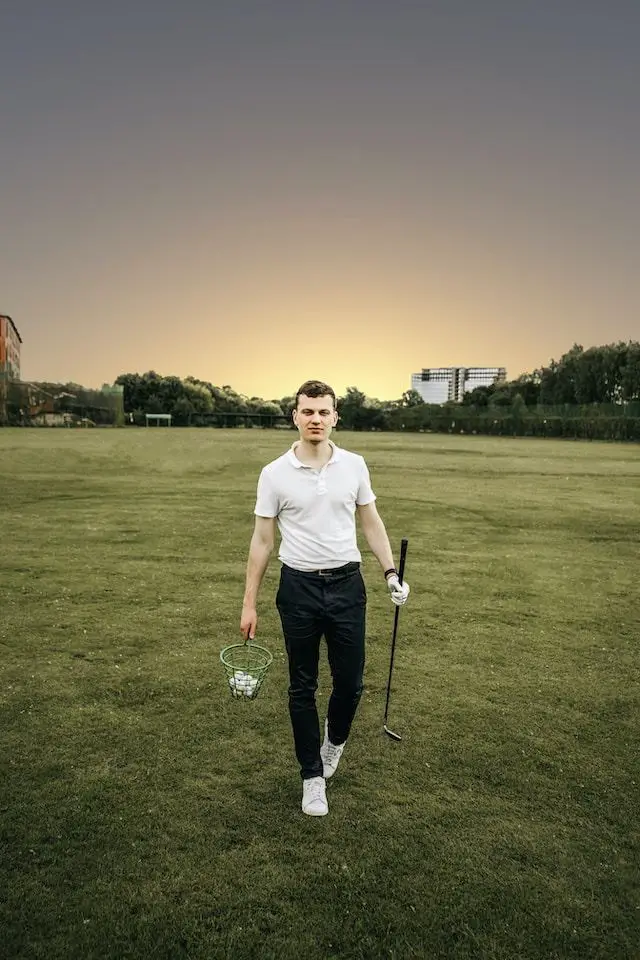 Golf shirts come off as formal and elegant apparel and can be worn to work. But there are a few things to think about.
Your golf shirt should be tucked in properly only then will it look appropriate for a business casual look. 
Secondly, the length of your golf shirt is particularly important since it affects your level of comfort. They are designed to be as comfy as possible to make sure you feel at ease while being at work.
Some golf shirts are made to be a little longer than others. This keeps them tucked in for the whole day. So, for a business casual look, we would recommend this sort of golf shirt.
Moreover, golf shirts that are too tight should be avoided. Nothing irritates you more than being constrained as you go about your day.
If you want to flaunt your figure, though, go for a slim-fit golf shirt. It will achieve the same impression without suffocating you.
So, it's time to take your work casual outfit to the next level and to put on a golf shirt rather than a business suit.
Golf shirts will let you keep a professional appearance with little effort when worn appropriately.
All in all, for business casual clothes, whether you're wearing a jacket or a sweater, golf shirts will go perfectly with them and they should always be tucked in because the last thing you want to do at a meeting or in front of your coworkers or clients is to appear messy.
What Shirts Are Business Casual?
In today's world, the dress code has loosened, and business casual, since it's more relaxing and comfortable, has become the new normal.
While business casual isn't as formal for many guys, it does provide an opportunity to stand out in ways that weren't previously possible.
For men, golf shirts, polo shirts, long-sleeved shirts, or button-downs with formal pants or trousers, khakis, chinos, and formal shoes are appropriate for business casual outfits. Ties are optional, and you can alternate between button-downs and blouses.
It's not necessary to wear a suit, a professional shirt with a tie to work every day, because business casual shirts provide the most room for growth, and now you can wear almost any decent-looking shirt to work as long as it's perfectly tucked in and doesn't have any creases.
Moreover, wearing a decent collared shirt, a sweater or jacket, and relaxed but suitable shoes can also be considered a business casual look.
When deciding what to dress for a business casual job, also keep in mind that on Fridays, several businesses allow employees to dress more casually than on other days of the week.
Before going too far from the everyday dress code, it's essential to take notice of suitable casual Friday clothes depending on what others are wearing.
Finally, a little piece of advice, when deciding what to wear to a job interview, rather than wearing casual shirts, it's better to go for business casual shirts instead.
Consider wearing a golf shirt or a polo shirt for your first in-person interview if the employer has a business casual dress policy.
This can help you make a good first impression and detect what others in the company are wearing so you may emulate their style in future interviews.
Are Golf Shirts Formal Wear?
Golf shirts are noted for their formal and elegant appearance. They are often composed of comfortable fabrics and include a collar.
They can be worn on formal occasions with khakis or formal pants and stylish shoes. If they're tucked in properly, they give quite a formal look.
Men are starting to wear golf shirts to work because of their comfortable fabric and professional look. These shirts are made of moisture-wicking fabric that allows air to flow and keeps your body cool while you're at work.
The cherry on top is that golf shirts can be worn as both formal and informal attire, but it's important to maintain excellent taste and function in mind when dressing for certain activities.
Depending on the type of event or task you're conducting, choose which style to use. If you want to wear a golf shirt to work, pair it with formal pants, and don't leave it untucked.
On the other hand, if you want to hang out with your friends, you can leave your shirt untucked and can wear it with jeans and sneakers.
Golf shirts are versatile and can be worn to any occasion you can think of.
In a nutshell, the most important thing to remember is that you can wear any style of decent-looking golf shirt in a business casual setting as long as it complements the rest of your wardrobe and is perfectly tucked in.
You could be out of your league if you show up to work in jeans or baggy clothes. So, to look presentable, put on a nice golf shirt and leave everyone's jaws dropping.
Also, don't forget to check out this article on "is an untucked polo shirt business casual".