There's no denying the fact that everyone loves Rainbows.
Be it an adult or a kid, the sight of seven colors spread across the sky brings a feeling of joy and contentment. 
From the earliest days, rainbows have been associated with good luck, happiness, hope, and inclusivity in all communities.
This is the reason why many brands use the rainbow as their logo. Want to know who those brands are? Keep reading till the end to find out.
Aviator Nation:
Aviator Nation is an American clothing brand founded by Paige Mycoskie. Paige had always been inspired by the 1970s Californian fashion but barely found any clothes in the market. 
So in 2006, she decided to start her own brand in her garage located near Venice Beach.
She used to work at a surf shop during the day and sew clothes with her sewing machine at night.
The journey was quite a challenge for Paige because although she was creative and had a vision of what she wanted to create, she didn't really know how to stitch. 
So she spent months mastering the skill of stitching and then started to sell her pieces at music festivals.
Her hard work began to pay off and soon she opened up her own Aviator Nation flagship store in San Francisco.
Today, Aviator Nation has stores in seventeen different locations including Las Vegas, Manhattan, and Malibu.
You can find everything from hoodies and sweatpants to swimming costumes and outerwear at the store, all inspired by 1970 Californian fashion.
If you wish to learn more about the brand, check out its website by clicking on the link below. 
The Rainbow's Brand:
Since 1994, the colors of the rainbow have been used to represent and support the LGBTQI community. So whenever a brand or company wishes to show their support for the community, they use a rainbow in their logo or clothes.
As the name of this clothing brand indicates, it was created to serve only one purpose- To accept, love, and support lesbian, gay, bisexual, transexual, queer, or nonbinary men and women of society.
On The Rainbow's Brand website you can find T-shirts, hoodies, and other clothing articles that would help you proudly define who you are.
The brand has thousands of pride designs to choose from and promises its buyers clothes that are made with the finest fabric and hand-tailored to perfection.
The company's About Us page says that the owner is one of the biggest supporters of the LGBT community and delivers clothes worldwide to various pride societies and conferences. 
So whether you are gay yourself or have a gay best friend whom you wish to gift something cute and meaningful, this brand is perfect for you.
Want to know more about The Rainbow's Brand? Check out its website by clicking on the link below.
https://www.therainbowsbrand.com/
Rainbow Certified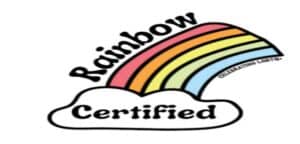 Not every brand is created to make loads of profit, some are created to support a greater cause and Rainbow Certified is one of those brands.
The story behind this brand is quite cute. It was when a British girl named Rachel fell in love with a Canadian girl named Sarah without any intention of doing so. 
When the couple came out to the world, they realized just how difficult it is to be homosexual. From disapproving looks to comments, they faced it all with bravery.
In 2019, the lesbian couple's love was still growing strong and they decided to create a brand that would openly support more of their kind. This was when Rainbow Certified was born.
The Canadian brand sells different types of shirts, hoodies, crewnecks, swimwear, footwear, and accessories for both men and women. 
They also have a unisex t-shirt collection that has cute logos like "Love Is Never Wrong," and "Le$bean Club."  
According to Sarah and Rachel, seeing people wearing shirts that show support for every LGBTQ + community, helps the oppressed ones feel like they aren't alone in their tough journey.
Want to know more about the brand? Check out the website with the link given below.
Snapdragon Brand
Snapdragon Brand is a clothing brand owned by an extremely creative and hardworking woman, Ashley Lee Zhong. 
Ashley started the brand when she realized that she has an insatiable desire to create weirdly attractive crochet clothing for herself and others around her.
Everything found on the Snapdragon website is handmade with lots of love and care. They also go through a thorough quality check to ensure that the buyers receive exactly what they have asked for. 
You can buy anything from cute crochet tops and printed leggings to dresses and skirts. The brand also sells statement neck pieces made with recycled materials.
Though everything on the website was stunning, one article that we truly fell in love with was Kaleidoscope's Classic Granny Square Crochet Print Skater Dress priced at 74.95 US dollars.  
Besides its unique designs, the best thing about Snapdragon Brand is its sustainability policy and love for humanity.
Whenever an article is sold, the brand donates 10% of the profit to the Loveland Foundation. 
Loveland Foundation is an organization that cares about black lives and works day and night to ensure Black women and girls get enough opportunities to succeed in life.
Check out the Snapdragon brand website by clicking on the link below.
Rainbow Sprout Baby Co.
Rainbow Sprout Baby Co. is a brand exclusively created for parents who worry a lot about getting the best things for their little ones. 
The brand was created in 2020 when its founder Christine and her wife welcomed a baby girl into the world. 
Though Christine was a hospital pharmacist by profession, her struggle with choosing the safest, cleanest, and most sustainable products for her child made her realize how many new parents struggle with this issue daily.
Rainbow Sprout Baby Co. sells high-quality blankets, books, furniture, and clothes for young kids. 
All the clothes are super cute and are created with the finest fabrics. The best part, however, is that all the clothes come at reasonable prices.
Organic cotton newborn sweater knit sets start at 39 US dollars while organic cotton graphic tees are priced at 25 US dollars. The brand also produces extremely comfortable organic cotton joggers priced at 25 US dollars. 
If you want to shop for your newborn baby or just wish to learn more about this brand, check out the website with the link given below.